HPD is well-known for high quality performance upgrades for turbo-diesel engines. Our range of intercooler kits offer significant increases in airflow over factory components, along with legendary durability. The latest kit in the intercooler range is to suit the popular 2.8-litre Hilux. The new unit is the biggest on the market, welcome news for Hilux owners wanting more power and torque.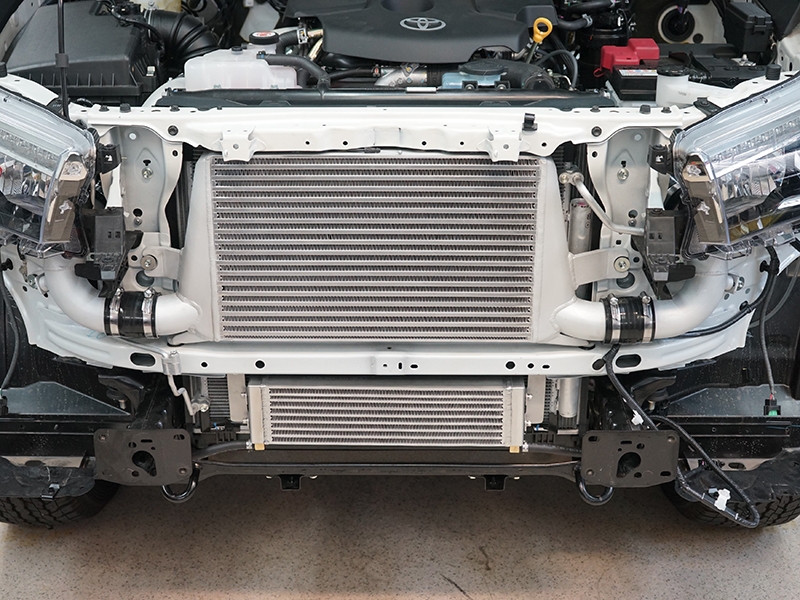 HPD's front mount intercooler is built around a 500mm x 300mm x 76mm bar and plate core with our unique specifications, from the precise fin pitch and bar height through to the plate thickness and bar structure. Further aiding airflow are the alloy end tanks, with TIG-welded construction. This is much more robust than the stock cooler's crimped on plastic tanks and means fewer potential leak points.
That durable quality is a hallmark of HPD. Mandrel-bent 63mm hard alloy piping replaces the stock items, with high-grade silicone hoses and load-rated German-made clamps. CNC-machined billet mounts hold the unit in place, including one for the factory air temperature sensor.
As with all HPD kits, the Hilux kit comes with everything required for a factory-look installation, from stainless steel laser-cut brackets, fasteners and clamps to piping and clamps. Comprehensive instructions make installation a straightforward job for the home enthusiast, or a simple procedure for a professional workshop.
The Hilux kit is especially suited to owners requiring improved performance. The intercooler alone delivers an extra 6kW of power over the OEM cooler, with an intake temperature reduction of 20 degrees. The extra airflow will support tuning modifications such as aftermarket turbos and injectors producing in excess of 200kW at the wheels.
The kit suits the Toyota Hilux 1GD-FTV engine from 2015 to current models. For owners with automatic transmissions, an HPD transmission cooler is recommended, especially for towing or off-road work. With a 300mm x 200mm x 50mm bar and plate core, CNC-machined end tanks and laser-cut stainless steel brackets, it also comes with everything required for installation.
Both the intercooler and transmission cooler are available now. Click here to shop at our online store.