Imitation may be regarded as the sincerest form of flattery, but frankly, it's the type of adulation we'd rather do without. Combating companies creating counterfeit HPD products is an ongoing problem we've been tackling for several years at considerable expense.
Worse than that, when ruthless operators unlawfully put our HPD brand on inferior parts to make a quick buck, it undermines the enormous commitment to our number one objective: to locally manufacture parts of the highest quality, durability and performance.
Why Does it Matter to Us?
Counterfeit HPD products pose a threat to the prospering and continued growth of our vibrant business and local community.

Our obsessive commitment to quality is the primary reason HPD has grown into an organisation that provides livelihoods for over thirty people in Australia, with continual growth adding additional positions regularly. We also utilise and support many local businesses in our supply and distribution chain.
Further proof of HPD's dedication to excellence is the heavy investment of profits back into areas including research and development, talented engineers and fabricators, the latest machinery as well as sourcing the best materials.
HPD Operations Manager Jason Griffith reveals one of the main motivations for working in such a vibrant company, "I've never seen reinvestment of profits at such a large scale in other companies I've dealt with. It's rewarding how quickly we can overcome obstacles without these barriers, providing opportunities for staff to self-develop and adopt new skill-sets throughout their employment."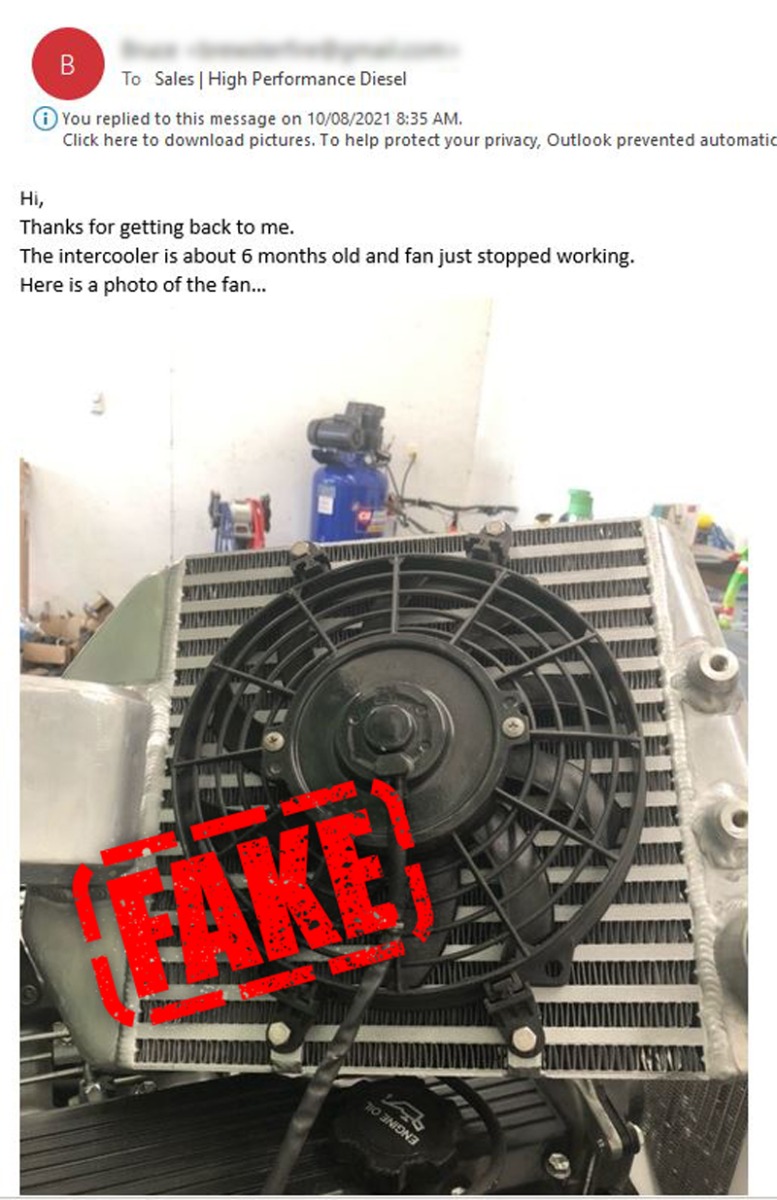 Example of a problem experienced due to unwittingly purchasing a counterfiet HPD intercooler kit, Our electric fans on our intercooler kits are Australian made by Davies Craig ensuring reliability in the toughest of circumstances.
Why Does it Matter to You?
The existence of fake HPD products concern us for another reason; these parts not only damage our reputation and livelihood but can damage your vehicle too.

Every part that leaves HPD is cleaned, tested and checked thoroughly to ensure it is 100% safe for the engine, avoiding significant and costly damage.

Loose material on inferior parts can include fragments of fin, poor quality welds and pieces from inadequate casting or machining.

We only source from suppliers that we know and trust who can consistently supply high quality products.

We fully back our products and pride ourselves on excellent customer service and aftersales support. We feel it's not unreasonable that we don't support counterfeit items by providing advice or parts to make them fit and work correctly.
How To Spot a Fake HPD Product
HPD place a huge emphasis on a high standard of fit and finish of everything that leaves our manufacturing facility. If you find a HPD product with any of the following bad attributes, it's almost certainly a counterfeit:
Parts don't fit correctly
Poor quality welds
Welds are large and often Mig not Tig
Rough or unfinished surfaces
Doesn't include installation guide (with detailed content list)
Bracketry that doesn't have the unique HPD satin finish
Weld on cast fittings, HPD use Billet alloy
Components not packed in HPD branded plastic bags
Failures, leaks
Loose material fragments
Price seems too good to be true
Missing parts (e.g., pipes and brackets)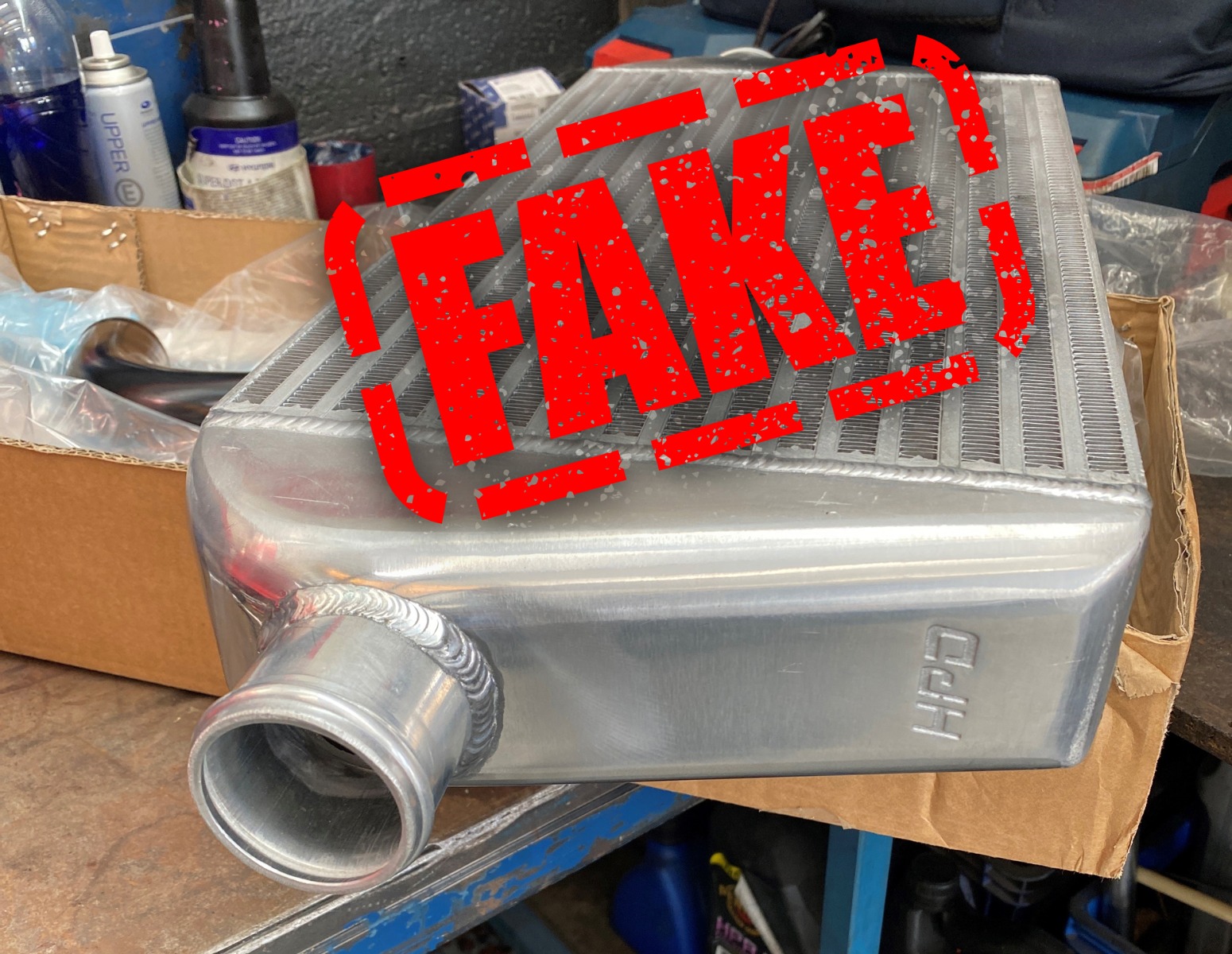 Counterfeit HPD intercooler kit - Note poor quality/oversized welds and polished appearance vs the unique even HPD satin finish
What should I do if I come across Fake HPD Products?
While we diligently keep an eye out for counterfeit HPD parts and have ongoing legal proceedings to stop these people's activities, it's vital that we receive information from our customers and followers. If you come across any fake HPD products or distributors, we encourage you to contact us and share the details so we can take action to stop it and warn our customers.
What's the Motive?
We feel the important question to bear in mind is: what motivates HPD versus what motivates people that supply cheap, imported counterfeit HPD products?
At HPD, we are predominantly car enthusiasts with a passion for four-wheel-driving, exploring and camping. We genuinely understand that you get what you can afford. We applaud clever thinking and ingenuity that can arise from being on a tight budget. While it's mildly flattering, we feel it's unethical to place our brand on inferior, cheaper (generally imported) products to gain credibility to a project.

Our brand must reflect our values. Genuine HPD products speak to these values and is a key part of our plan to ensure we continue to provide secure local employment and manufacturing excellence for generations to come.