A larger intercooler is a simple way to improve the performance and reliability of a turbo-diesel engine. The new MQ Triton intercooler upgrade kit from High Performance Diesel is substantially larger than the OEM unit, allowing for a massive increase in airflow and reducing intake temperatures even under sustained heavy load.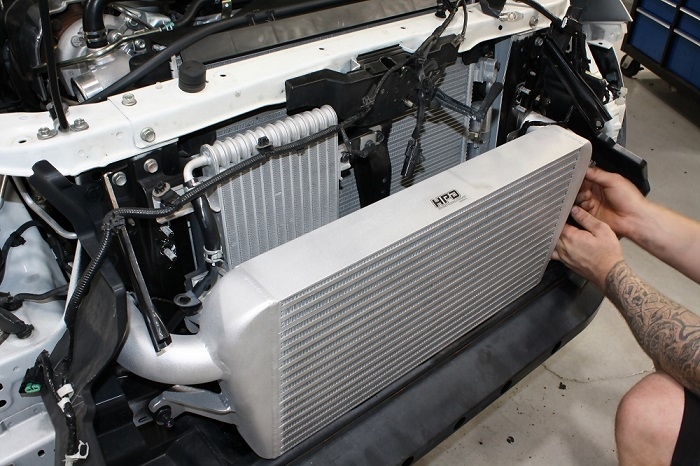 The intercooler plays a vital role in a turbocharged engine. Because cooler air is denser, it contains more oxygen, allowing the engine to burn more fuel more efficiently. The cooler mix going through the intake also keeps engine operating temperatures down, further improving efficiency and engine longevity. The harder the engine is working, whether in rugged off-road conditions, high temperatures, towing heavy loads, or climbing steep hills, the more important it is to supply it with cool air.
Replacing the OEM intercooler with a larger and more effective HPD unit is a quick and cost-effective way to improve engine performance, economy and long-term reliability. HPD's new Triton intercooler kit has a core measuring 600x300x76mm, significantly larger than the stock unit's 600x160x50 core. This massively increases the volume of air that can pass through the intercooler. The mandrel-bent alloy and inlet and outlet on the HPD unit are also larger to allow higher airflow.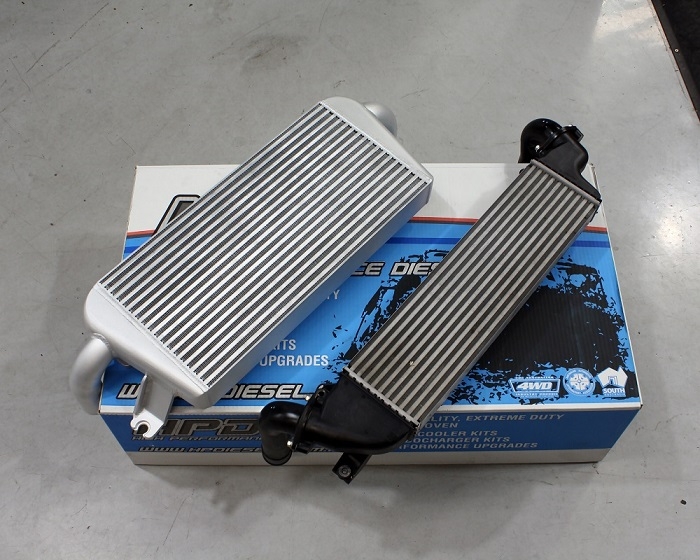 HPD's intercooler is also much more robust than the OEM item. Its alloy end tanks are much more substantial than the factory's crimped-on plastic ones, and the tanks, inlet and outlet are all tig-welded to form one uniform structure, eliminating potential leak points down the track.
Fitting the kit is well within the capabilities of a handy home mechanic or enthusiast. It's not necessary to always retune the engine – there are benefits from flow increases with the extra, cooler air – but reflashing the ECU can safely unleash much more power and torque thanks to the increased airflow.
Unlike many aftermarket intercoolers, HPD's products come with all piping required to completely replace the originals. The hard alloy pipes won't perish and split, and quality silicon piping is used where flexibility is required. Precision CNC-machined brackets line up exactly with the existing mounting points on the car, making fitment a simple procedure with all fasteners and clamps included in the kit.
The HPD MQ Triton intercooler kit is available from hpdiesel.com.au for $1595.
https://hpdiesel.com.au/products/intercooler-kits/mitsubishi-mq-triton-2-4-ltr-2015.html